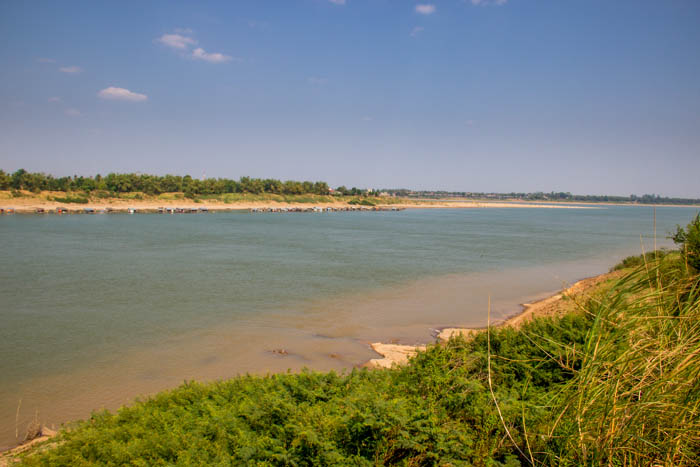 Having finished the Mondulkiri Trek, my next stop would be Kratie,  a sleepy town by the Mekong. The town has not a whole lot going on. Most people just stop for a day and head either North towards Laos or South to Phnom Phnom Penh. However, I heard that the surrounding area was supposed to be really beautiful. My plan was to go on a bike again and explore the region for a day. The regional government developed a very interesting tourism program called the Mekong Discovery Trail. It consists of several loops and trails, short to very long, which you can do by motorbike or bicycle. It's aim is to opening up some of the more remote stretches of the Mekong River to community based tourism and to support local communities.
I picked a route which would take me along the Mekong for a day, including two river crossings by ferry. I started in Kratie and the road was nicely paved and good to drive. After a few kilometers I arrived at the first ferry crossing. To my surprise it was a proper car ferry and and just as I arrived, the ferry got unloaded ready for the next crossing. Perfect timing. I boarded the boat, paid and waited for our departure. It was a nice day, sunny and warm, and I was anxious to make it to the other side which was supposed to be less developed and rugged.
I arrived and started to drive along the Mekong. It wasn't a real road but rather a bicycle trail. The riding was interesting and I passed beautiful scattered houses on stilts. It was very idyllic and what became more and more evident was the friendliness and warmth of the people. Literally every 10 meters I got a hello or people waving at me. It felt, like not very many people go along this road as I was a big attraction. every once in a while I stopped to take the beautiful scenery and once I did, I was usually surrounded by a screaming and wild horde of kids.
I left the bicycle trail since its condition became to worse to ride it. The next kilometers I went down a dirt road, which took me through a serious of little villages. The phenomenon just continued there. People were cheering at me, smiling, waving and shouting things. It started to ride one armed because I basically had to wave back all the time. Fascinating was, that not only the kids were open and friendly but also the adults. Usually they are a bit more reserved but there it seemed they were just thrilled to see a white guy on a motorbike coming through.
To top things off, all of the villages and the scenery by the road were just picture perfect. Nice houses, palm trees, oxcarts and the mighty Mekong by the side with scattered little islands in the middle of it. The atmosphere was great and I didn't want to stop riding. I think I didn't stop smiling during the whole trip.
Last thoughts …
Wow, what an experience. I did a few bike tours already but the atmosphere during this short trip was just perfect. I haven't experienced so much friendliness before. If I would have had the time, I would have done a longer trip around the area and maybe done a home stay. The Mekong Discovery Trail is a great concept and it is very easy to do. It is surprising that apparently not very many people do it. For me it was another highlight in Cambodia and it is definite recommendation for anyone visiting Cambodia.