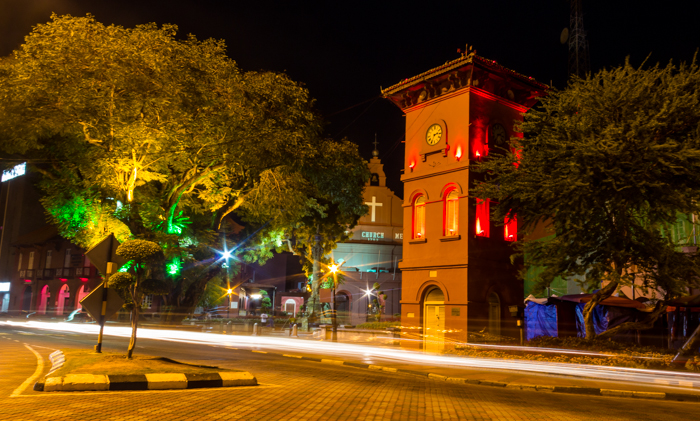 After a great time in Indo, I flew over to Singapore to meet friends who had just recently moved there. We had some great two days together but my original plan was to take the bus over to Malaysia which worked out very smoothly I have to say. It was actually the quickest and easiest land border crossing I have ever done here in Asia. I was bound for Malacca, the colonial city a few hours south of Kuala Lumpur located right next to the Straits of Malacca. I had booked a hostel in the center of Chinatown which was supposed to be the best part of town. I checked in, got to know some people staying in the same dorm but then couldn't help but rest for a couple of hours under the soothing aircon. It was blazing hot outside and there was no way I was either willing or able to walk around and explore the city. However, things started to look different when it had cooled down a little. The city seemed to liven up with vendors putting out their food stalls and others selling handicrafts. Chinese were sitting in their traditional restaurants and tea houses discussing the latest news. And of course, the tourists were out as well. It was a lively scene and I got a first impression of the many culinary highlights Malacca offers. Indian, Chinese but most interesting the local so called Nonya food. It looked like I could spend some quality time in town and made plans to reathoroughly discover everything the following day.
I got up early to avoid the heat and get a first taste of Malacca's delicacies. I went to a Chinese breakfast place close by and ordered a bunch of different dim sum, not really knowing what each of those were. It was interesting and everyone else around me, only locals, seemed to enjoy it a lot. I found it maybe a bit too unusual although the food wasn't bad at all. I just crave a proper Western breakfast – I still haven't gotten fully used to the Asian style of breakfast I have to admit.
It started getting hotter already and I wanted to explore the city before it got unbearable again. The city and especially Chinatown had such a great atmosphere to it. It was an authentic Chinatown with people still actually living there and going about their daily businesses. I saw a traditional blacksmith getting to work right next to our hostel, carpenters creating some highly detailed traditional pieces of furniture, antiques dealers bargaining with their customers, tailors concentrating on their work and the omnipresent food outlets of greatest variety. And what became evident were the many traditional elements on the houses. A lot of Chinese symbols and colored lanterns hanging in the entryways. At the same time the interior of some of these house was just like you would have imagined them to be in colonial times. Open, airy, decorated with plants and heavy furniture and wood decorations. All that painted such a vivid and colorful picture of a city with such a long history of different influences. In the end it had been occupied by the Portuguese, British, Japanese just to name a few plus the Chinese leaving their apparent marks.
Another distinct feature of Malacca is its correspondent river. It flows right through the center of town with a lot of its attractions right next to it. The banks are lined with traditional houses and little restaurants. But the main feature are the big street art images a lot of houses are decorated with. Just going along the river, stopping here and there and crossing some of the detailed bridges was quiet an experience and gave the city yet another different character apart from its colonial past. I had a little sun downer on the river banks and headed back to the hostel. I wanted to get some rest before venturing out into the night.
My mission was to first get some local food and then wander the back streets of Malacca for some night photography. And that was purely fantastic. The town is charming during daytime but at night it shows its real face. And it's a beauty. The streets were lit with the traditional Chinese red paper lanterns and other buildings were warmly illuminated  which spread a very soothing atmosphere, almost a bit magical. People were outside having drinks or some quick snacks but some of the backstreets seemed almost deserted with someone hushing by every once in a while. Sometimes it felt like I had the city all to myself. The riverside also was completely different. All the building on its banks were illuminated which made for great reflections in the water. And again, there was almost no one out. The city really got me during that night.
I finished off at the little "hole in the wall" bar just across the street from our hostel. The Shantaram was tiny with a friendly local running it who had a very soft spot for cats. The outside was decorated with image collages of humans with cat's heads and other curiosities about the furry friends. Together with your first order came a hand made "cat bookmark" as well. One just had to like this place, also for the fact that it was frequented by interesting locals. Me and Jan, a cool Canadian guy from my dorm, made this place our regular hangout for the very short time being. It was yet another feature which made Malacca so likable.
Last thoughts…
Again one of these places where you don't expect much and then get surprised big time. I enjoyed every minute in Malacca. It was one of these rare places where I felt totally at ease and also inspired. Taking pictures there was a pleasure and I reckon, I could have easily spend more time there. I mean, there is effectively not too much to do but just spending time there, soaking in the atmosphere and unwinding was just so enjoyable. A lot of people just go there for a day trip from KL but I can recommend everyone to at least not miss out on the magical night time in Malacca. Writing this after having already finished Malaysia, I can say that my stay there was probably my personal highlight.