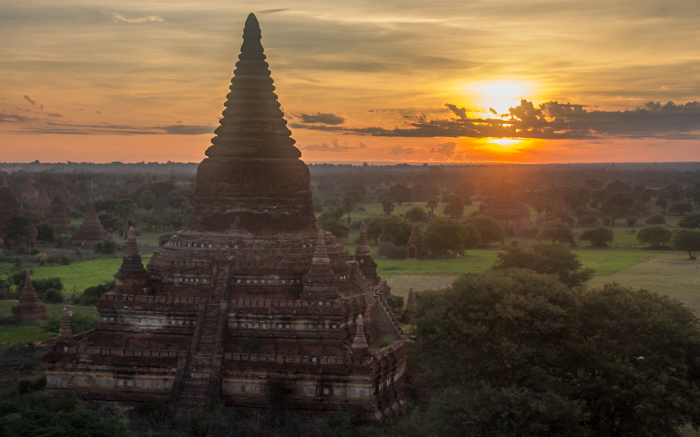 I was bound for Bagan, a place of mystery, magic and many rumors. A place that ranks among the world's finest cultural heritage sites such as Angkor Wat in Cambodia or Machu Pichu in Peru. From the 9th to 13th centuries, the city also known as Pagan, was the capital of the Kingdom of Pagan, the first kingdom to unify the regions that would later constitute modern Myanmar. During the kingdom's height between the 11th and 13th centuries, over 10,000 Buddhist temples, pagodas and monasteries were constructed in the Bagan plains, of which the remains of over 2200 temples and pagodas still survive to the present day. A must see for every Myanmar tourist, I just hoped that it would not bee to crowded. After a long overnight bus ride I arrived before dawn. Still half asleep, I stumbled out of the bus to board a horse cart into town. My adventure was about to begin.
First sunrise over Bagan
I had arranged accommodation beforehand since I wasn't sure about the availabilities and also because I didn't want to take a risk given my super early arrival. My friendly horse cart driver dropped me off in front of the guesthouse and made sure I was let in. He then offered to pick me up after an hour to watch the sunrise. I was a little hesitant but given the fact that I was awake anyhow, I thought might as well and agreed to meet up a little later. My friend was on time, 5 o' clock,  and so we headed off to Shwei Leik Too, a temple near by which he thought would be nice to watch the sunrise.  He sure didn't promise too much – there was no one else there but a friendly Chinese girl who had ridden her bike over. We had climbed the temple in darkness and was now waiting for the sun to appear. We didn't have to wait long – the sun slowly rose above the horizon and painted the vast plains and its temples in different tones of orange and then yellow. It was amazing to see the temples starting to glow and slowly casting their long shadows over the surrounding fields. But the best was the solitude we were allowed to enjoy at a place like this. This was slightly diturbed a little later by a couple of vendors trying to sell some of their paintings. It did not dampen the magnificent atmosphere much though since they were rather friendly and curious than pushy. It was a great start of my stay in Bagan. I was ready for more and went back to the guesthouse to get an overview of what to actually see and how to structure my days.
Exploring in the incredible heat of Bagan
After a surprisingly good breakfast and some studying of Bagan maps and the respective pages in the guidebook I was ready to head out on my own. My plan was to rent a bicycle and cycle around the Northern part of the Bagan loop and maybe into the center for a bit. While arranging the bike, I soon became aware of how extremely hot it actually became during the daytime. The sun just burned down mercilessly and I realized that the early hours of noon and afternoon are probably spent best in the cool of my room's air-condition. I still wanted to check out a few temples before it got too hot and made my way down the circular road. The temples and stupas along the way already gave a good impression of the great variety Bagan features. Small ones, bigger ones, some with intricate designs on the inside, others more a ruin than a temple and all so close to each other, connected by little paths cutting the plain. After a bit, the long bus ride combined with a lack of sleep and the heat took its toll though. I headed back to the guesthouse to recharge my batteries and wait out the heat.
Adapting quickly to the siesta mode, I was back on track at around 4 o' clock, ready to explore more temples and eventually seeing the sunset. The sky was still clear so I had high hopes for a nice scene. After cycling around for a bit, I decided to go to back to Sulamani Temple which I had seen already earlier that day. It was said that you would be able to enjoy the sunset without the masses present at Shwesandaw Paya there. Up on the temple's terrace a bit early, I waited to snap a few shots and enjoy the setting sun over the plains. The crowd up there was alright with a lot of locals who had actually come for prayer and meditation. The atmosphere was great and I got to talk to a couple of fellow travelers from Europe and China. We all enjoyed the scenery, took pictures and just gazed at the sky. Riding my bicycle back in the dark across narrow paths, I was just grateful to be there at this time. Maybe traveling Asia in low season is not too bad after all.
Inside Bagan's Temples
The next day I had woken up for yet another sunrise which wasn't as nice as the last one. So I returned to the guesthouse where I met Angel from Canada. She had just arrived from Mandalay and was planning her day. We decided to go exploring together and went out to see some of the temples before it would get too hot. This point came sooner than expected though. We returned for lunch and decided  to meet again after a well deserved nap. It prove to be the best decision. Fresh and awake we went to some of the bigger temples which offered maze like passageways and hidden statues of Buddha. The light was perfect, dimming the interior of the temples in different tones of red and orange. With the little crowds present, it all had a little bit of an Indiana Jones movie. The walls were decorated with delicate carvings and paintings, some renovated and others marked by the sands of time. We wandered around in amazement and stopped here and there to take in the magnificent architecture and the silence of the moment.
For sunset we decided to go the most popular temple, Shwesandaw. The difference to the evening before was striking. Tour buses, big and small, were unloading their passengers right in front and loads of people were on top already. We wanted to make the best of it and climbed up the steep stairs. The view from up there compensated for everything else I have to admit. The plains looked magical with all the major temples in sight. And yet again, it was clear with just a few clouds dotting the still blue sky. But soon it all changed completely and the sky was painted in a deep purple / indigo color. It looked surreal. After a bit, the sun had completely disappeared leaving the biggest temples illuminated in the night sky. It is just crazy at how different the temple and the plains can look within just one hour or so. Fascinating.

Bagan a bit off the beaten path
The next day we wanted to get off of that beaten path and go down the Southern end of the circular road. Hence distances are a bit far, we decided to each rent electric bikes. Never rode one of those before but the lack of rental motorbikes made it the most feasible alternative to get around quickly.
The temples along the road were way less visited. We actually had most of them for us alone – no other tourists around. We arrived at one bigger complex which looked interesting but it was locked. We knew, that there are usually key holders who, if you manage to find them, open up the temple for you. Once again lucky, we found the key holder for this temple, a young energetic guy who was eager to show us around. He explained the intricate wall paintings and led us up two stupas. On top we chilled for a moment while our key holder talked to his girlfriend on his mobile phone. So funny. He had done such a good job that we wanted to pay him a little tip which he resolutely refused. Wow, Myanmar surprised once again. You definitely don't find that kind of behavior a lot in South East Asia anymore.
After a short shower which we endured in a remote monastery where the monks allowed us to take shelter, we made it into a small village. Right on time because we were starving. Well fed y the keeper of the local restaurant, we were showed around the village by a friend of the family. The village was small and traditional featuring wooden stilt houses and life stock everywhere. We stopped at a house were the grandmother of our "guide" was producing yarn for the traditional clothing they were making. She also hand rolled the typical Burmese cheroot cigars. Not one hundred percent sure if all this was really authentic or already tainted by tourism, we still enjoyed the moment. In the end, again it was just us, no one else around. It was nice to have some time to talk with the locals without a big group around and everyone snapping away.
Last thoughts …
The temples of Bagan are definitely a must see if in Myanmar. It is absolutely impressive to see the mass amount of temples and stupas, their intricate designs, the paintings inside them and to just take in the magical atmosphere around those masterpieces of ancient architecture. At the same time it was very pleasant to share this place with a few people only and not with hordes of tourists like in Angkor. But I think part of this circumstance has to be contributed to traveling in the rainy season. Bagan was definitely the place where I realized how good a decision it was to travel during that time. But I think, with all the improvements of the political situation and the influx of mass tourism, all of this will change very quickly. I can just hope, that Bagan won't become another Angkor. It is definitely a magical place.