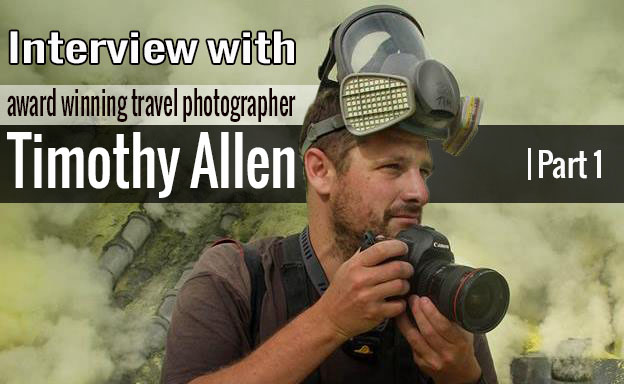 Following his inspiring work for a couple of years already, I recently had the opportunity to interview Timothy Allen, one of today's best and most renowned travel photographers. Allen, 43 years old and from Tonbridge, Kent, is probably best known for his work with the BBC's landmark television series Human Planet. In charge of the productions photography, Timothy traveled around the world for two years, to more than 80 locations in more than 40 countries and to some of the remotest locations on this earth. During this epic project, he captured the world's most incredible human stories. Timothy has dived with sea gypsies 40 meters beneath the South China Sea in the Philippines, climbed huge trees with honey pickers in Central Africa, and roamed the Mongolian Tundra with the local Nomads.

He is a multi-award winning photographer having been commended 13 times in various categories in the prestigious Travel Photographer of the Year awards, including the overall title in 2013.
But Timothy is also an intrepid traveler and backpacker from the pre-internet times who still feels part of the culture of backpacking at heart.
The first part of this two part interview series will shed some light on this lesser known aspect of his biography. Timothy speaks about his history as a backpacker, his opinion about traveling nowadays and how it all changed. The second part will then be all about his award-winning travel photography.
ESCapology: You started backpacking in the late 80s, some might call it the Golden Age, when backpacking was still exotic, adventurous and much more of a challenge than it is today. What has changed since your early days? 
The most poignant thing that has changed since the 80s and early 90s is the Internet. It is the most fundamental change that could ever happen to backpacking and traveling in general.
When I first went away backpacking, I wouldn't speak to my parents for 12 months. The only contact I would have with anyone was through old fashioned letters. Receiving a letter from my family around Christmas time or around my birthday was so exciting back then. There is nothing that comes close to this these days.
I also remember meeting friends I had made along the way for Christmas at Haad Rin Bay on the island of Koh Phangan, which was just a cluster of beach huts back then. We were a core group of about 30 friends, all traveling separately around South East Asia, and we arranged verbally to meet there. It all happened by word of mouth, no e-mail or social media and it worked out perfectly. Everyone turned up at the same day and we had a great time.
It was a very romantic way of backpacking and the internet has changed all of that. It has kind of removed the romantic sense of traveling far away.
I did an assignment in Peru a couple of months ago and had to stay in Cusco for a few days. I didn't really know where to stay so I booked everything online and never spoke to anyone. Now that would have been absolutely inconceivable even in the 90s. You would just turn up at places and then figure everything else out from there.
It was a very romantic way of backpacking and the internet has changed all of that. It has kind of removed the romantic sense of traveling far away. Nowadays, you can constantly feel this connection to back home. The great thing about traveling that I used to have was an intense sense that I was on an adventure. The Internet unfortunately takes that away from you.
ESCapology: You are 43 now and you said that you still feel part of this culture of backpacking at heart. How are you still connected to it?
It's just one of the places I really feel at home.  If I got some free time, which actually doesn't happen too often anymore – I've got a wife and kids now – I still immerse myself into that culture of backpacking. For example, I shot that job in Peru a couple of months ago and I knew I had to do some acclimatizing in the mountains before starting the actual job. So I booked my flight seven days earlier and I just stayed at a backpackers lodge in Cusco for that week. I remember that I just felt so at home when I left the door behind me and put my backpack on.
I can't deny that feeling in me that wants to explore. I tried resisting it for years in different situations and I never can. It's not a bad thing, it's a good thing!
It's almost like the opposite of what my mother feels when she goes traveling. She's terrified unless someone meets her at the airport, drops her off at the hotel and takes care of her. But I am the opposite. I know without a doubt that I'll be able to find a place to sleep. When I arrive in a place and it's just me and my feet and my backpack – I love it.
ESCapology: After 6 years as photographer at The Independent, you said you were at a stage where you felt the urgent need for a change. You sold your apartment and your belongings and set out for adventure only armed with a backpack and your camera. What was the reason for this bold decision and changing your life back then?
I often refer to the movie Fight Club when I think of that time. It's right at the start of the film when Tyler Durden sits in his apartment, surrounded by Ikea furniture, looking around and disgusted by the life he lives. I had a similar experience where I realized that something just wasn't right. It was strange because most people I knew thought I was living the dream life. I was the chief photographer at The Independent on Sunday, I shot exciting jobs, I travelled all over the world, I had a great apartment in London – I was basically on a roll. But I felt something wasn't quite right.
I just couldn't put my finger on what it was. After a while, I came to the conclusion that my apartment had a lot to do with it all. All of a sudden I realized that if I would sell it, it would affect every other aspect of my life. I knew I had to do it, don't ask me why, I just knew it. So I did. I put the apartment on the market, a week later I put in my resignation at The Independent, I split up with my girlfriend and gave away most of my possessions to a local charity. I just stripped away all the crap that I had and the things that I didn't need – and I took off.
ESCapology: Did you have a set itinerary or an idea about the places you wanted to see and explore?
Not at all. I was undecided which route to take so I typed into google, "What's the most remote country in the world" and Bhutan came up. I had seen pictures of the place and read an article by a National Geographic photographer and I thought, "Right, that's the place I'm going."
I flew into Calcutta and went up to Bhutan. That was the start of a trip that took me all the way across the Himalayas from Jammu and Kashmir down to the Northeastern states of India. It took one year and a half and it was absolutely brilliant. The last few years of work at The Independent, I felt like an elastic band that had been pulled back and back slowly, and when I left I just went boom! Suddenly, the life came back into my bones again. I went to the most remote places I could think of, the places no one knew about. I just walked with my backpack, following stories. If I heard of a story, I was going to search it and photograph it. I still love all the pictures I shot back then. It was such a liberating time and I would do the same thing now if I could.
ESCapology: So you started your trip in Bhutan and travelled it quite extensively. How was traveling the country back then? Nowadays, it is much regulated, very exclusive and comparably expensive.
Back then it was exactly the same. But I've learned to think outside the box. So I organized a tour just for myself and when I arrived in the country, I told to the guide that I didn't want to do the tour but rather go off and explore. He eventually agreed and we had an amazing time.
It was so much fun, so joyful walking with these people and just what trekking should be like. It was probably one of my best travel experiences.
Everything is negotiable, especially around India and the Himalayas. We trekked all the way up to the Northwestern province of Laya, home of the Layap tribe. While we were there, we discovered that the government had asked all Bhutanese people to register for a national census. The Layaps lived about six days' walk from anywhere at that time and there were no roads. So all 1000 Layaps were going to walk across the Himalayas to this one little government office to get their picture taken and registered. We managed to get there and walk with them for 5 days and 4 nights. It was just me and those 1000 Layaps wearing these incredible traditional clothes. It was so much fun, so joyful walking with these people and just what trekking should be like. It was probably one of my best travel experiences.
ESCapology: It sounds like trekking is your favorite thing to do while traveling.
It's really one of my favorite things. I love trekking but I don't often like to trek with other backpackers. There are so many great places to go trekking in the world where you don't have to go with a tour. You can trek with people that walk, that walk to get from one place to another and they do it because there are no roads. I have become almost obsessed with a lack of roads. If I know a place that has no roads or that you can only reach by walking, I'm there. I love those places. That's almost something that dictates where I go these days. Of course, roads are great for people that live in these places with the main reason being that they get better access to medical facilities, but roads tend to bring an incredibly rapid transformative change to a place. From an outsiders perspective – and I am being pretty selfish here – the road drains the place of people and often their culture. It's yet another thing that takes away the romance in a place.
ESCapology: You have been around the world, to the most remote regions and you have met people who call these places their home. What are the most important lessons these people and your travels have taught you?
What I have personally learned from my experiences with other people is that one of the most important aspects which was missing in my life was a sense of community. I remember staying a month in the Naisingpara refugee camp in Northeast India, where the Bru tribe lives. That was the place where I had a revelation that I was completely missing a closeness amongst my own people back home. I suddenly realized that I didn't have a community. The process that started then has culminated in me living where we live now. I and my small family live on a farm here in Wales, quite remotely located, but we know all our neighbors intimately and I never felt more part of a culture than I have ever done in my life. That was a huge lesson and one of the most important things I learned from people while traveling.
I hope you liked the interview so far. It's been an inspiration for me and hearing his stories just makes me want to shoulder my backpack and get out there again.
Next week Tim will speak about his photography and how his work has changed. Until then make sure to check his website and to like his Facebook Page where he shares his amazing work. You can also find him on Twitter and Instagram.

Join the ESCapology tribe