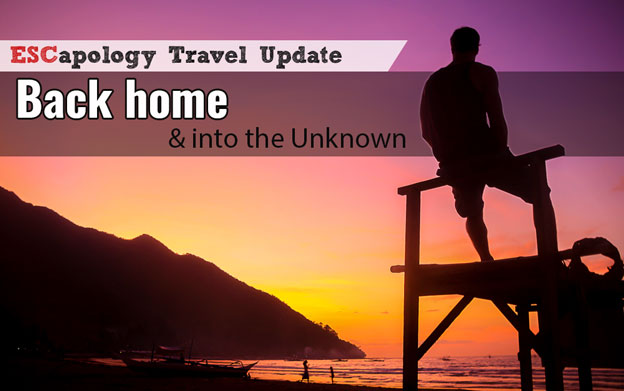 If you've been following me on Facebook, you might already know: I am about to embark on another adventure which will take me back "home" to the Philippines. The last days and weeks have been busy and stressful preparing this upcoming whirlwind trip but also preparing an even bigger adventure which most of you don't yet know about. As I am writing this, killing those last couple of hours before boarding my flight, I am contemplating about this trip which will be a journey back home and straight into the unknown…
Going back to the Philippines
Finally back to the Philippines, Pilipinas or Las Islas Filipinas – a trip that I had planned a long time ago already and that I have been putting off way too long. The original plan was to travel to the archipelago in January already but some unexpected developments kept me from making the necessary arrangements. When I finally sorted everything out, I only had three weeks until my departure. And what was supposed to be at least a month in the country, had to be reduced to a 10 day whirlwind tour. But better than nothing and even though the preparations were stressful, I can say that it is all worth it.
I will finally be back. Back to see old friends, to hopefully make a lot of new ones, to explore more parts of the beautiful archipelago and to also take the blog from the virtual world into the real world. What does that mean, you might wonder? With the help of my friends at fliptrip.ph I was able to arrange the first ESCapology reader meetup in Manila. It will take place on Monday the 16th at 7:00 pm and I'm pretty excited about it. If you still want to come over on Monday, check the little ticket raffle at the end of this post.
Adventures, new  friends and working for a good cause
After the Manila meetup, I will travel down to Cebu where I will almost directly take off on a three day motorbike adventure. It will take me across Cebu Island and along the little-known "vegetable highway", a route hardly ever explored by tourists and locals alike. One of the highlights of the tour will be a stop in Moalboal where I hope to squeeze in a few dives before heading back to Cebu. But not before hopefully sampling some of the country's best lechon along the way.
The next highlight will be a blogger event on Bantayan Island off the coast of Cebu. For two day this beautiful gem will be the base for bloggers, tourism representatives and NGO people. We will explore the island, discuss about tourism and sustainable development and help to rebuild some of the houses destroyed by the recent typhoon Yolanda. I'm really excited about this trip and hope to contribute a small part in putting Bantayan back on the tourist map. I have never been there but I heard it must be a magnificent place.
Into the unknown
What has kept me so busy during the last few weeks wasn't actually the preparations of my trip to the Philippines. It was something which took way more thinking and was probably the most difficult decision I had to take in my life.
Around the end of the year an opportunity of working on the beautiful Canadian Westcoast came up. Living by the ocean, far away from the hustle and bustle of big city life and getting the chance to work in a different field was all of a sudden a realistic option. To make it happen however, I would have to quit my job which I had just started 6 months ago and leave behind security, a good salary and most importantly a great team of co-workers. I figured taking a decision like this would be easy after having quit already once before, but it wasn't. It's not something you throw away easily and it was probably the toughest decisions I ever had to take. And I am still not 100% sure if it was the right one. In the end I think it is a great opportunity which will probably only appear once and I'd hate to ask the infamous "What if…" question after a while. So once again I decided to be brave, to take the risk and go for the unknown. I'm hoping that everything will work out good and the least I am hoping for is that I will come out of this as a better person than I was before. Wish me luck; I can for sure need it.
Still need a ticket for the Meetup?
As you might have seen, we have organized the meetup via an RSVP ticket system. All of the tickets are of course free, it's just to kind of keep control of the attendance since space is limited. The tickets we offered went away like Balut but I have a promotion code for 8 more. Here is how you can win the code:
1. Go to my Facebook Page
2. Like the post about this article and share it
3. All sharers will automatically be in the raffle for the promo codes
On Sunday at around midday Philippines time I will announce the winners on Facebook. If you see your name on the winners list, please just send me a short notice so I can reply and give you the code. The code can be entered on the Eventbrite registration page. After entering the code, just order your ticket from the ESCapology.eu Winners batch.
OK dear friends, I am about to hop on the airplane to start this journey back home and into the unknown. I hope you will stick with me here at ESCapology.
Yours,