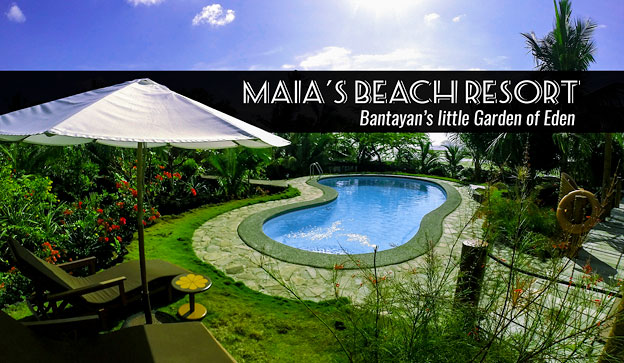 The road is rocky and bumpy, taking me deeper and deeper inside the island of Bantayan. Small patches of rice, coconut trees, some badly bent by the recent typhoon, and scattered settlements pass by slowly as we rumble along. I'm on my way to Maia's Beach Resorts, my home away from home for my brief stay on this Filipino gem.  Bantayan Island itself is already a little paradise but what a lot of people don't know, is that it has its very own little Garden of Eden. On the way East, towards Bantayan town, tucked away from the crowds of Santa Fé and embedded in a lush green oasis, you will find a place so enchanted, so beautiful and designed with so much love for detail that it comes as a big surprise. That Garden of Eden is Maia's and as I finally arrive, I instantly know that the little journey was well worth it. Welcome to Bantayan's own little Garden of Eden, welcome to Maia's Beach Resort.

Exploring the Garden of Eden
Maia's Beach Resort is a lush, tropical paradise featuring big patches of green bermuda grass, towering palm trees gently swaying their umbrella like leaves in the wind and an abundance of flowers, beautifully arranged by Maia herself as to complement a complex puzzle of nature. The center of the resort is the breezy restaurant, a big open cottage with dazzling views into the tropical garden and over to the sea. To the tunes of easy listening music I enjoyed the delicious breakfast (choice of American, Continental and Filipino) complete with fruit, coffee and juice to the sound of the ocean. It's just the perfect way to start a day on the island.
If you feel lazy and just wanting to unwind, Maia's features an azure blue pool which is accessed via a little walkway that leads over aged, dark coral and some of Maia's intricate gardening arrangements. Even if the ocean is close, spending time at the pool is just bliss. Right at the waterfront, you will find a few cottages for family and group functions or just relaxing with your friends. If you head further down, you will end up at Maia's beach bar which gives you the best views over the ocean; perfect for enjoying an ice cold San Mig Light to pass the heat of the day. Everything is connected by those little walkways and it seems like it has all been built to fit right into the place's natural environment. The whole resort has been built in a sustainable fashion, integrating man-made structures into the existing surroundings. At Maia's, architecture and nature have bonded for an almost symbiotic relationship. I don't know much about it, but this place definitely must have a good Feng Shui.
The resort's six bungalows are set back in the garden, across from the restaurant. They are spacious, all equipped with aircon, a modern bath, a big terrace for some late afternoon lounging and they are usually good for four people. For a guy like me, who is used to travel on the cheap, it was a very nice change. And the fact that they only have six bungalows ensures that the place never gets too crowded.
Maia's projects and the big rebuild
As almost every resort on the island, Maia's was affected badly by the recent super typhoon Yolanda. I talked to Klaus, Maia's German husband, and he said once he saw the damage the storm had done, they were both seriously considering packing up and going back to Europe. But then they realized that this move would not only affect them themselves. Being a true family business, it would also deprive Maia's family members who all work at the resort of their main source of income. After a night sleeping on it, they decided to not give up, to be resilient and rebuild everything. It took them both lots of blood, sweat and tears and of course money, but when I was there, I could not even tell that the place was affected at all. Maia and Klaus must have worked a little wonder in just such a short amount of time. It was impressive to see, especially after Maia showed me the pictures of cottages left without roofs, bent trees and the garden utterly battered.  Realizing these efforts made the stay at Maia's even more enjoyable than it already was.
Maia herself took the disaster as a chance to do even more than just rebuild the resort. She launched a project to provide local women with a new source of income. In collaboration with an European NGO, they were trained to weave intricate bags and purses out of recycled plastic rice sacks. The bags are now being sold at Maia's among other places and the project seems to be a big success, having already sparked follow-up projects of the same kind. Maia is very passionate about these projects and is always for a chat about them.
Some practilities
As mentioned, the resort has six cottages, some with a double bed, sow with twin beds and some designed as a triple. All of them can easily be used by a group of four. Prices start at 1,950 PHP, depending on the bungalow and the season. You can check their pricelist here or book via Agoda.
Getting there is pretty straight forward. You just exit the ferry in Santa Fé and make your way towards Bantayan. A bit before entering the town, you will see the resort's big signage with a sailing boat. Just follow the bumpy road and you will be there in no time. If you book online, just let Maia and Klaus know about your arrival time and they will pick you up right at the ferry with one of their comfortable vehicles. It can't get any easier than that. The same vehicles are also made available for tours and other excursions. And if you want to head to Santa Fé, they will arrange a drop-off and pick-up for you. If it gets too late because you had too much Red Horse and hung out far too long at the videoke bar, you can always hail a Habal-Habal, the islands motorbike-taxis, to drive you back home. It worked fine for me, even in a slightly intoxicated state at around 4 o' clock in the morning.
Last thoughts …
Maia and Klaus will go out of their way to make your stay as pleasant as possible. Maia is very articulate and passionate about what she is doing and chatting with her about the island, the Philippines and life in general is super interesting. The unique setup of the place, with everything being so in tune and in balance makes it an oasis for the body and mind. Just be aware that the resort is a little bit away from the center with all its bars, restaurants and videoke joints. But that exactly makes for its charm and special atmosphere. If you want to get away from it all for a while, relax and recharge your batteries, then Maia's is your place. And if you still feel the need to party it up, to go for some drinks or show off at the videoke, there is always a way to get to Santa Fé and Maia will sure help. Summer is coming and maybe Bantayan is on your bucket list. If so, why not check Maia's Beach Resort.