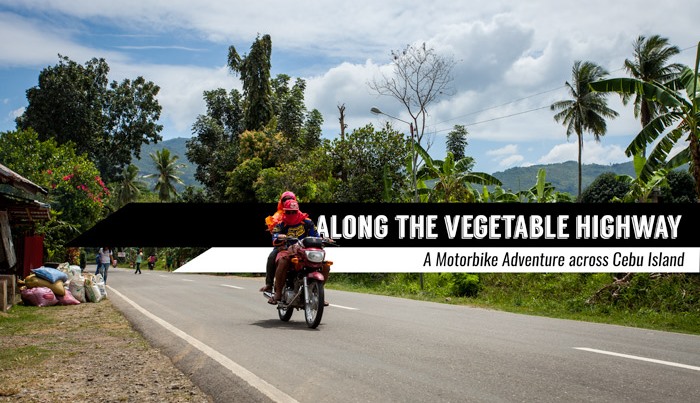 Cebu, the famous gateway to the Visayas and to most known because of its booming capital city, its touristic hotspot Mactan Island or the seductive beaches of Bantayan and Malapascua. But definitely not the first address that comes to mind when thinking of a motorbike adventure off the beaten track. As I had planned to go to Cebu anyway, I did some research on possible motorbike tours and came across a route not well documented – the so called Vegetable Highway. It seemed a bit mysterious, something not a lot of people have done, something new and hence just what I like. It all took off from there and with the help of some Cebu expats and more research, I was able to design a trip itinerary which seemed promising: A 4-day tour which would take me across the island's mountain range, along the coast, down the secluded Vegetable Highway, and finally to Moalboal for some scuba diving with the famous sardine storm. Born from just a fleeting idea, this motorbike adventure quickly turned out to be one of the best tours I did in Southeast Asia.
| Facts
Distance: 275 kilometers
Max. per day: 123 kilometers
Days: 4 (3 on the motorbike)
Highlights: Transcentral Hwy, Vegetable Hwy, Moalboal, Mantuyapan Falls, Carcar Lechon
Difficulty: Easy
Recommended Bike: 125 cc semi-automatic
Accommodation: Small resorts and lodges
| Preparations
The start and finish of this scenic journey across the island is Cebu City, one of the largest cities of the Philippines and the country's second biggest tourism hub after Manila. That being said, Cebu can be easily reached from every corner of the country and from select international destinations. Once arrived in Cebu, you will need to sort out a rental bike. Through some online research, I found Cebu Expat Services which offers reliable bike rentals. You can check their bikes on their website and they will even deliver your desired bike to your doorstep. That service came in very handy for me as I was in a ridiculous rush to get on the road. Their average price is about 500 PHP per day. I usually recommend getting a map beforehand but here it is not a must. I had no map and only navigated with Google Maps on my smartphone and the help some friendly locals and expats. For further information see the detailed map below. Apart from that, make sure you have a proper helmet, sturdy shoes and long pants and a long sleeve. The Visayan sun can be grueling as I had to find out the hard way.

| Day 1 – Cebu to Asturias via Balamban (53 km)
I knew it would be a hectic day. The night before, the first ESCapology Meet-Up went down in Manila and for the following day I had planned to take the 10 o' clock flight Cebu. That would allow me enough time to arrive at my friends place, sort out the bike rental, prepare and eventually make my way across the Transcentral Highway. But things often tend to not go as planned and especially so if you happen to travel with Cebu Pacific. My flight got cancelled and the next one they put me on was scheduled for two o' clock. Almost needless to say that this one also didn't depart on time. After wasting time at NAIA, I finally arrived at Cebu airport around 3 o' clock and still had to fight my way through the heavy traffic of the Visayan capital. Finally arrived, I just had half an hour to sort out the bike rental, repack my bags, store most of it at my friends place, change clothes and get ready for the trip. I expected it to be hectic but not that hectic. By the time I finally set out for adventure, the sun had already begun to set. The outlook of tackling the curvy Transcentral Highway by night, which is, putting it mildly, not the safest time of the day to ride a motorbike anyway, wasn't the most pleasant outlook. But I had no choice. I needed to hit the road; I needed to make it to Asturias on the other side of the island that day.
Every once in a while a lonely street light illuminated the winding road with its orange glow, only to quickly abandon me again into obscurity.
The sun set quickly and soon I found myself riding through the clear night, with only the stars above and my headlight cutting through the darkness. Every once in a while a lonely street light illuminated the winding road with its orange glow, only to quickly abandon me again into obscurity. But I quickly adapted and the ride more and more turned into fascinating experience. The tranquility of the night, the sound of nocturnal animals awaking from their daytime slumber, the dimly lit windows of the scattered houses passing by, bats chasing after each and countless fireflies which seemed to lead the way. I might have missed the magnificent views this stretch offers, but it sure was a ride to remember.
After a good two hours I arrived in Asturias, where I met up with Canadian resort owner Lee whom I had contacted via Facebook before. I had planned to stay at his place, the Seabreeze Inn, and he offered to pick me up in town and bring me to his place. What a service. It all worked out and before heading to the resort, we stopped at the local barbecue place, close to the market. Grilled chicken, pork, rice, an ice cold San Miguel Light to top it off and the accompanying echoes of karaoke from afar – Just what I needed after the bustle of this hectic day.
Arrived at the resort, Lee and I talked for a while, having a couple of more beers and taking in the soothing sound of the ocean. Then, at the latest, I thought that all the hectic and stress of the day was worth it. I was happy to have made it, happy to be finally riding again and happy to be on an adventure again.
| Day 2 – Asturias to Moalboal via Vegetable Highway (125 km)
I woke up to the sound of a slight breeze and the gentle waves making their way onto the shoreline. It's a beautiful stretch of coastline, very authentic with the local fishermen bringing in their catch in the morning light, the beach almost deserted and the dark blue waters shimmering in the sun. Lee had this sight every morning, right at his doorstep. "What a truly rich man he is", I thought.
After a hearty breakfast, prepared by Lee himself, it was time to part. I came as a stranger and left as a friend, that's just one thing that I love about traveling. I hit the road again only to stop again after a few kilometers. Lee had recommended visiting the Balamban public market and that's where I was headed. Markets usually make for nice road stops, with great photo opportunities, interesting people and a chance to stock up on snacks and supplies. It wasn't much different here in Balamban. The difference however was that this place didn't seem to see very many foreigners. People greeted me very friendly, talked to me and were smiling as I passed their little market stalls. It was such a good atmosphere and I truly enjoyed my small break.
I had to make it to the elusive Vegetable Highway and to Moalboal which was my final destination that day. After some twists and turns, looking out for the start of the Vegetable Highway, I finally found the intersection after having missed the turn off once already. It's a bit tricky to find since the sign is only visible when coming from the opposite side. With the help of Lee's descriptions and Google maps however I found it and finally embarked onto the stretch which originally sparked the whole idea of coming here.
I rode the first part of the Vegetable Highway, which runs from Carcar-Barili Road to Sibonga-Dumanjug Road. This section is almost entirely sealed and varies between 1 and 1.5 lanes wide. I would have liked to ride the supposedly rougher southern stretch as well but I one of its bridges had been severely damaged at that time. It was a very pleasant ride, following the winding road, one curve after another, climbing up hills only to make it down again right afterwards. I passed by scattered little settlements along the road, rice and vegetable fields and small road side Sari-Sari stores. As I got increasingly hungry, I spotted a young couple who had set up a small barbecue grill just on the side of road. They were grilling hotdogs and pork skewers. "It can't get more authentic than that", I thought and took the chance to have a small lunch break. While the food was good, I wasn't able to quench my typical German thirst for beer. Hence my next stop had to be a Sari-Sari store with beer on offer. Having found my little road-side watering hole and sipping on a bottle of Golden Eagle, the signature drink of rural barrios, I at that point knew I had arrived in the province. And I loved it.
Taking in every bit of the scenery, I finished the Vegetable Highway and made my way towards the coast again. Moalboal was calling and the setting sun, painting long and slim shadows onto the road, led my way. As I arrived, I was dusty, sweaty and exhausted but happy that I made it. I arranged my accommodation, booked a couple of dives for the day after and was looking forward for a day of relaxation and not being on the road.
| Day 3 – Moalboal Diving and Relaxation (rest day)
I had signed up for an early morning dive with the famous sardine storm, a huge school of sardines which visits the coastal waters of Moalboal almost every year. Diving alongside this, what seemed like an ever changing and morphing structure of fish, was just amazing. It is something you would see in TV documentaries and here I was, right in the middle of it all, surrounded by millions of fish, the sunlight sending its rays into the abyss and reflecting off of the sardine's glittering silver scales. As everyone emerged with a big smile on their faces, we knew that getting up before sunrise was definitely worth it.
The next dive, after a healthy breakfast and a needed hot cup of coffee, took us to Pescador Island, one of the best dive sites in the area and only a good 20 minutes boat ride from Moalboal. The underwater drop-off featured an abundance of colorful corals, fish and macro life. But I have to say that I did enjoy diving among the sardines better since it was just so extraordinary.
I was thinking about taking another dive in the afternoon but instead decided to enjoy life and laze around the beach for the rest of the day. The sweet idleness of the tropics was just what I needed. I strolled up and down the beach, observing the dive boats going out and coming in, the kids cheerfully playing in the water and jumping off the boats and the younger kids building sand castles. The soothing effect of the ocean combined with the kids' cheerfulness instantly got me relaxed and the day passed by like a tropical breeze. Before I knew it, the Moalboal sun had started to set, dipping everything in deep tones of orange and yellow. The waves calmed down, the black silhouettes of the fishermen hovered over their boat's decks and the beach kids enjoyed a last kiss of the sun. It was one of these rare moments where I felt at peace with everything around me and a sense of serenity which is hard to find these days.
| Day 4 – Moalboal to Cebu via Carcar (97 km)
The last day of my trip had begun and I already felt a bit of melancholy as I knew this adventure would be over very soon. But I still had a few highlights ahead of me so off I went, leaving serene Moalboal behind but knowing that I will be back one day. After a bit of backtracking, I arrived in the town of Barili, where, according to my newly made friend Lee, I would find a secluded waterfall. Mantayupan Falls is an enchanted gem of a waterfall which sees far less visitors as its nearby and famous counterpart Kawasan Falls. Nestling between age-old trees dipping their roots into the cooling water, its emerald pool shines bright from far away. I don't know if I was just lucky that day but I had it all for myself – no one else was around. I spent half an hour wandering around in awe and taking pictures of the roaring waterfall. Since I had still quite the distance to cover that day, I skipped the obligatory dip this time.
Back on the road I was headed for Carcar, the promised land of lechon. Lechon is suckling pig roasted over charcoals and especially popular in the Visayas. Legend has it that the best lechon of the entire country can be found in Carcar, on its public market to be exact. And as I just can't resist following legends, this is where I was headed. Arrived at the market after an enjoyable ride through the province, I had the locals point me to the lechon section right away. And there it was, about ten stalls, cramped into a corner of the market, and each one displaying a whole roasted pig. I got to try the crunchy skin at a few stalls, joked around with the lechon ladies and finally opted for Bebe's lechon and a few packs of Puso (hanging rice) to go with it. I had lechon in Cebu City but this here was just another world. Tasty, tender and just so flavorsome. I don't know what their secret is, but it was good…very good. Sitting on a small plastic stool inside the market's little eatery, exchanging smiles with the locals around, I enjoyed my lechon and found the legend confirmed.
After wandering around the market for a bit it was finally time to head back to Cebu. The adventure came to an end as I knew the last stretch would only take me along the main highway and back into the rush hour traffic of the capital.
| Last Thoughts …
Born from a vague idea of riding a motorbike on Cebu Island, this trip was way better than I could have hoped for. It had everything what a good motorbike adventure needs – scenic riding, winding and twisting roads, friendly locals a bunch of natural attraction, awesome photo opportunities and the welcoming atmosphere of being in the province. Spending a day in beautiful Moalboal was the icing on the cake. What I found most fascinating was that all of these things can be found just outside of Cebu City, one of the Philippines' largest and busiest cities. Being in Cebu City, one would not even imagine finding so much beauty and adventure just around the corner, and that includes myself. It was a great journey and it ranks definitely among my favorite tours so far.
Join the ESCapology tribe