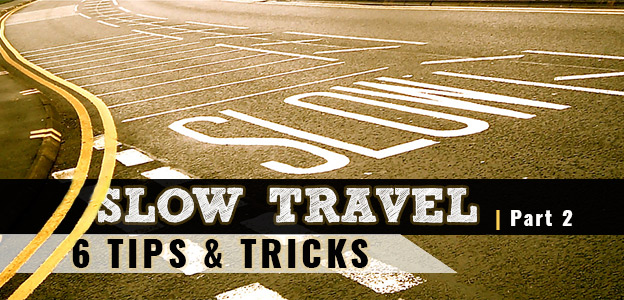 In my last article I revealed why I am a big advocate of slow travel and what its benefits are. The point is that travel shouldn't be a race or competition to see the most places. So many other aspects of our modern lives are like that already, hectic, rushed and competitive, so why continue during our precious time off? Instead we should savor our travel time, take in all in of those new impressions with all of our senses and make room for relaxation, inspiration and cultural exchange. It's about taking more back home than just a photograph. But how do you actually do it, you might wonder. Well, there are a few simple tips that will help you to drop it down a gear and make the most of your trip.
Put your itinerary on a diet
I often receive messages from readers who ask for advice with regards to their itinerary.  The common problem I see is that they are often way too packed. My general advice is to do less and spend more time in fewer places.
The magic of slow travel, where the emphasis is less on manic sightseeing and more on taking in your surroundings at a relaxed pace. (Sarah Schlichter, travel writer)
You have a month off and want to travel Southeast Asia? Instead of rushing from one country to the other, wasting time and money on the road, pick just two countries, maybe even just one and explore it thoroughly. Instead of visiting 10 places, just do three. You want to travel the world in six month? Why the rush? Pick just one region or a few countries and immerse in those. Slow travel means spending more time in fewer places. Remember, less is more.
Drop your to do list
The reason for the rush is often that abstract feeling of having to complete a  to do or bucket list. But to do lists are for work or for those situations where you urgently have to get things done and stay organized. I myself am using to do lists every single day and I could probably not survive without them. But they are definitely the wrong concept when it comes to traveling.
It's the perfect time to be self-indulgent and follow your own itinerary, one that comes from within and not a guidebook. (Alex Leviton, former Lonely Planet author)
Don't get me wrong here. It is good to do your research before your trip. It's part of the excitement and a lot of fun. But stay flexible and decide what you would like to do and see once you are there. In the end, traveling is not marking off things of a list but rather about the quality time spent in a place. Quality over quantity!
Try traveling solo
If you are traveling by yourself, you are not only more flexible but also more receptive and attentive to all those new impressions your destination presents you. You have time to reflect and really take things in. Plus you are not tied to someone else's itinerary. You can go with your own flow, be self-indulgent and create your very own memories. On top of that, I often found it easier to get in touch with the locals while traveling solo. That alone can lead to the most memorable experiences. And don't worry! You are never really alone when traveling. You will meet so many new and interesting people.
Get to know the locals
Hanging out with other travelers is easy and often lots of fun. But getting to know people who actually call the place you are visiting their home is a great way of immersing deeper into your destination. These interactions often make for the most memorable moments. The locals can also show the hidden gems of their place, things that you probably won't find in your average guide book. If you are a bit shy and hesitant, there are easy ways of getting in touch with locals nowadays. Couchsurfing is a great platform where, apart from the regular stay overs, you can find regular meetings and events which you can attend. Meet-Up is another platform which seems to work very well.
Get your read on
I am not talking about travel guides but proper travel literature. Novels or reports about the culture and history of the country you will be visiting. This will help you to get a much deeper understanding and feel for your destination. Reading books like that is probably the best way to get deeper into a culture and it will also add to your excitement as you prepare for your journey. The Lonely Planet Section about the country's history is a start and it also features a list of books which you can read before embarking on your adventure.  A perfect example for me was George Orwell's "Burmese Days". The images that this masterpiece created in my mind accompanied me throughout my whole journey across the Myanmar.
Stay longer
Why only stay a couple of days in a place? Establishing sort of a base lets you explore your surroundings way better than just passing through. Hostels and Guesthouse often offer better deals if you stay for a few nights or even longer. It is easy on your budget and you will still be in touch with other travelers if you happen to miss company.
Last thoughts …
I understand that a lot of us are on a pretty strict diet in terms of vacation days. Sometimes we have a few weeks, maybe only a couple and often only a long weekend. We want to make the most of it, I understand because I have been there myself. But slow travel is not all about the time we spend in one place. It is really about the quality of time, our experiences and what we take home. We should travel with all of our senses and take our time take it all in. It is sure not for everyone but maybe it is worth a try for you. Maybe next time?
Do you have other tips for taking it a little slower? And what's your opinion about slow travel in general? Let me know.
Join the ESCapology tribe