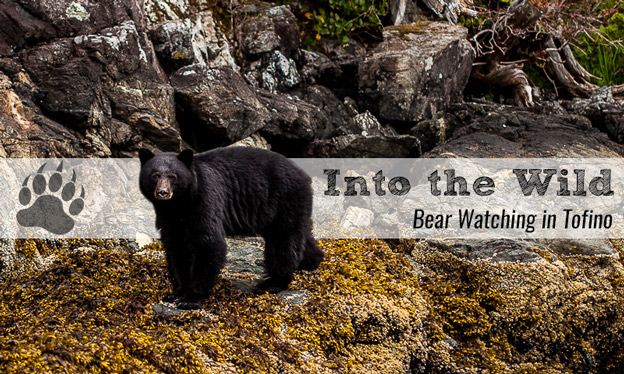 It was early and just like a heavy blankets, thick layers of fog were still covering the rugged coastline as we set off for an adventure. An adventure into the wilderness of the Canadian Westcoast. My friends Alex and Steve from Los Angeles had come for a visit and together we were on a quest to see some of the region's true locals, the coastal Black Bears. After a quick breakfast with coffee and donuts, it was time to head down to Meares Landing, our departure point and headquarters of tour company Remote Passages. What started with rather little expectations, turned out to be a fascinating trip into the wild.
Getting ready for adventure
The whole Meares Landing compound conveyed a sense of adventure and we were excited like little kids as we walked down the creaky boardwalk to receive our briefing for the day. Getting familiar with the area and learning about what to expect on this trip was one thing. Suiting up properly was another. We were given thick and bright red overalls which were supposed to shield us from the cold on the open water but also served as full body life jackets. All wrapped up, I had a last glance at the office map and the indicated sightings of the last few days looked promising. With high hopes for spotting black bears and other wildlife, we walked to the jetty and our racy Zodiac motor boat. It was time.
Bald head eagles and our first bear
"Dress warm! On the water it will be 10 degrees colder than on land". This warning by the tour staff rang in my head as we embarked into the waters of the inlet. And yes, it was chilly but our fluffy red overalls did what they were supposed to. As the Zodiac plowed through the coastal waters, we suddenly had the first wildlife encounter of the day. A majestic bald head eagle was sitting on top of a waterway signpost. Watching us closely, the king of the air kept its confident posture as we approached calmly and slowly. Towering above his territory, the rugged coastline seemed to disappear under thick layers of grey fog, giving the whole scene a morbid but at the same time fascinating touch. My camera was clicking and I still wonder who was really watching whom at this point.
We continued our journey and after patrolling the coast for a bit, the moment was there. Our first black bear was in sight. Finally, this is what we came for, this is what we had hoped for and we had just started our journey. You could feel the excitement rising as we slowly chugged towards the coast. Everyone was quiet, holding their breath, and trying not to scare this beautiful creature off. But to the contrary, the bear was utterly relaxed; foraging for food as he calmly strolled along the rocks. At one point it looked straight at us, but since bears don't have any natural predators coming from the sea, they don't perceive boats as potential threat. We were able to get very close, which was amazing. His fur was shimmering in the pale sunlight and despite his great weight; his movement along the edgy rocks was smooth and steady. An absolutely fascinating animal.
Relaxation on seal rock
It was time to leave our furry friend behind to look for more wildlife. Everyone was relieved and happy because such an early sight apparently doesn't happen too often. But it just got better and better. We made it to seal rock, a small exposed rock which the harbor seals have claimed as their very own sunbathing spot. That rock was crowded and as the sun came out, sending its warming rays onto the rock, we knew exactly why. It looked like the perfect place to spend the morning and warm up. About 30 seals were just lying around, enjoying the sun, sleeping or playing with each other. Others were floating in the water, their heads sticking out, patiently waiting for a good spot. Unfortunately they are apparently not the smartest animals out there. Our guide told us that once Orcas, the famous killer whales, arrive in that area and circle the rock, the seals get scared and dive into the water instead of staying put on the rock. Much to the joy of the Orcas.
Onward to find more bears, we came across a huge swarm of moon jellyfish. Nonpoisonous, these shimmering blue creatures form big packs in calm waters and just float along. So far science has not yet discovered the root of this behavior but it is sure an interesting sight.
Bears and more Bears
Back along the coastline, we got lucky once again and found more bears. The most surprising sight was two bears, peacefully strolling along the beach together. That is something rarely seen as bears are known to live solo most of the time. Only when mating, they allow another bear in their close vicinity. Approaching from afar and then seeing them from up close was quite a surprise.
During the course of the journey, we were able to spot a couple of more bears, all foraging along the coastline, looking for fresh crabs and mussels. Despite appearing a bit clumsy, they go about it with a high degree of dexterity. They flip over rocks with their paws, grab the tasty food hiding underneath, crack it open and munch on it vigorously. That's their daily morning routine and apart from eating fresh sea food, you can find bears eating anything else as well. Berries, fruit, roots, meat and even grass. You could say their diet is a very balanced one.
Returning to Tofino
Our trip into the wild slowly came to an end. Our guide and boat driver stepped on the gas and we made our way across the waters of the inlet. Half way there, we came across a patch of open mud flats which were exposed due to low tide. What we discovered was a the final highlight of our journey. A group of juvenile bald eagles, not yet featuring the animal's distinctive white head and tail feathers, were testing each other's strength. Fighting over a piece of fish, they were so engaged that they never took real notice of us. The wingspan of even the juveniles is very impressive and it really showed why they are the uncontested kings of the air.
Riding in our zodiac vessel, the fresh wind in our faces and Tofino harbor in the distance, everyone was happy and content. Bear watching in Tofino was a great trip with an outcome beyond all of our expectations. As we anchored at the pier and everyone slowly disembarked, it was time for one last snapshot. Good times in the wild with good friends.
3 hours on the water with only having had a donut and coffee makes hungry…really hungry. We definitely felt for those bears, waking up hungry with the urge of finding fresh seafood. Good thing we didn't have to flip over rocks to find it. Our source and way to end the morning was Wildside Grill, a local institution for fresh seafood of all kinds. It was Fish Tacos and Salmon Burgers with fries for us and I am sure our new found black furred friends would have enjoyed that as well.
Last thoughts
First of all it was great to finally meet Alex and Steve personally. I had featured Alex on the blog some time ago and we kept in touch ever since. Our trip into the wild made it a perfect weekend. We never expected to see so much wildlife in such a short amount of time.  And for me, coming from a country where bears have been extinct for decades already, this was a very special kind of experience. Getting back in touch with nature and seeing wildlife in their natural habitat is great and definitely puts some things back into perspective.
Join the ESCapology tribe