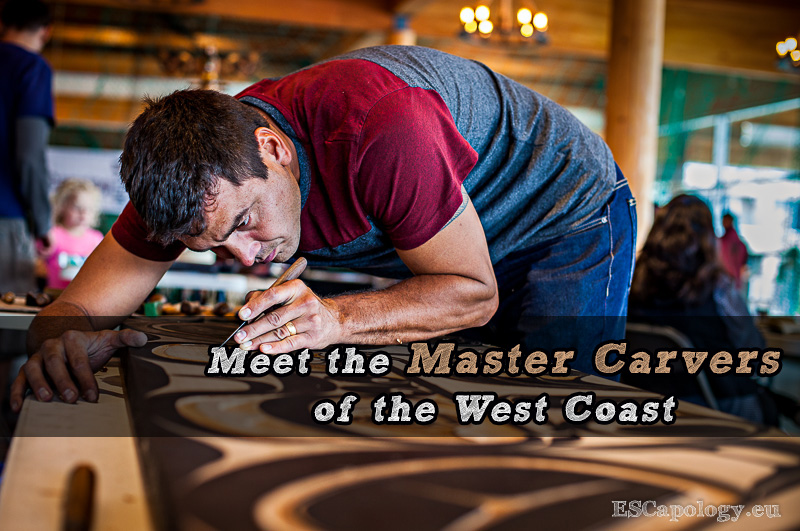 Autumn was in the air. It was that special kind of weather, which is hard to put in words but which you'll recognize once it's there – very bright and sunny but chilly at the same time with a subtle breeze of crisp air, telling you that summer is over. On a morning just like that, chance had it that I found out about the annual Tofino carving festival named "Carving on the Edge". Squinting into the sun and sipping on a coffee outside my favorite café, I discovered a small article about the festival happening that same day. As a photographer, I was instantly hooked as I know that traditional arts and crafts can make for brilliant pictures. Apart from that, it seemed like a unique chance to learn more about the culture of the people who have been calling the Canadian West Coast their home for thousands of years.
The Tofino Carving Festival – Carving on the Edge
The tranquil seaside town of Tofino, located on the West Coast of Vancouver Island, was and still is an important hub for the Tla-o-qui-aht First Nations, one of the many Canadian indigenous groups. With its long First Nations history, the Tofino region is home to many skilled artists. They are masters of their trade and are dedicated to preserving the art of wood carving. Every year in September, when the sun is low, heralding the arrival of autumn, the annual Carving on the Edge Festival gives these master carvers a stage for their rich cultural heritage and a chance for others to find more about the art. The local carvers are joined by other indigenous artists from all over the island, making it a unique mix of styles, techniques and people.
Documenting history and heritage
As I entered the venue, the beautiful Shore Pier building down at the Tofino docks, I was greeted by a creative and very vibrant atmosphere. It was not only an exhibition but the artists where all actually working on their next pieces. The airy and bright location left space to wonder around and observe the masters at work. The great thing was that all of them were very approachable, happily answering questions by curious bystanders – just like me.
Famous Masters of their Trade
I got to talk to Robin Rorick, an artist of the Haida First Nations from far up North. He was working on an amazing cedar panel symbolizing the face of a black bear. Totally immersed in his work, I was able to snap a good picture of him in action. Afterwards he told me that the work that was commissioned to him and will overall take him about a month to finish will be sold for an incredible amount of 8,000 Dollars.
Carving isn't necessarily an art practiced in solitude but can also be dynamic teamwork. That was proven by Vancouver Island artists Gordon Dick and Kelly Robinson who carved a 12ft cedar panel from start to finish. The panel titled "Teaching Foresight" featured a contemporary design and represents the artist's early memories and teachings from his late grandfather. "I am concerned about the health of our fish and our oceans and I want to put these ideas, feelings and traditions into this work of art", Gordon Dick said, who also owns his own gallery.
Probably most representative for the art of traditional carving in and around Tofino is the Martin family. Brothers Joe and Carl Martin, both master carvers of the local Tla-o-qui-aht First Nations, have been carving since their youth and finished over 60 canoes in their careers. Their canoes and other pieces of art can be found in museums and cultural displays throughout Canada and Europe. They have also been the subjects of many documentaries and articles about Vancouver Island's West Coast region. Joe Martin has traveled all over the world to present his art and educate people on the history and culture of his people. However, the biggest surprise was to get approached by him in almost fluent German. As it turned out, Joe had visited my former home town several times and even has his work on display in the city's museum of natural history. How small the world can be these days …
A Colorful Presentation of First Nations Culture
Carving is only one aspect of the rich First Nations culture. The performing arts and especially traditional dancing is another. Dancing played a vital role in the everyday lives of the different tribes and was used for welcoming others, storytelling, ceremonial purposes and passing on ancient myths and beliefs. The colorful and intricate dresses of the dancers, their graceful and yet figurative movement, accompanied by the rhythmic sounds of drums and expressive chanting – all of that makes for a fascinating and powerful expression of an age-old culture. The festival provided a small glimpse of that during its evening dance performance.
Led by their chief Bill Cranmer, a group of the 'Na̱mǥis First Nation had been invited to attend the festival and perform some of their traditional dances. Chief Cranmer was a tall and wiry man with bright white hair and an utterly energetic aura. One could feel his authority and as he spoke, everyone else turned quiet. After his brief introduction of his people, their history and their dances, the performance began. A welcome dance by the whole group was followed by single dances, each telling a unique story. Stories from ancient times and which had been passed on from one generation to the next. And as the intricately carved wooden masks, displayed during the daytime, played an important part in these dances, it all suddenly came together, seemed connected and made sense.
Last Thoughts …
Coming from Europe and only knowing this fascinating culture from movies, which by the way are from reality, this was an amazing experience. The First Nations of Canada and all of North America have been going through difficult times and still are. But they seem to slowly pick up the pieces and put it all back together. It's great to see that this rich culture is still alive and that even their young ones actively participate in it. It was just a small glimpse, a scratch on the surface but it was enough to make me want to learn more about it. I once again realized that traveling is not only about adventure, nice landscapes and the next thrill. It's also about getting to know new cultures, their way of life and learning a bit from it. Having such a unique experience in a country like Canada came as a little surprise and made it all even more worthwhile.

Join the ESCapology tribe